CN City
Launched:
June 14, 2004 (USA)
January 1, 2005 (Latin America)
Defunct:
April 9, 2006 (USA)
August 6, 2010 (Latin America)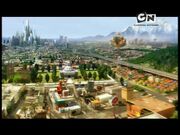 The CN City look (in Latin America in Spanish La Ciudad CN) was the third Cartoon Network look. The CN (Cartoon Network) City look contained all the Cartoon Network characters living in a CGI town. The City look was replaced on April 10, 2006 with the Yes!. The City look was deemed the most popular due to it rerunning all of Cartoon Network's originals, along with new shows that were somewhat pleasing to fans such as Megas XLR, The Life and Times of Juniper Lee. Though the most well known show that started during this look was Foster's Home for Imaginary Friends which lasted after this look, the Yes! look, and made it all the way up to the Noods look. It came close to making it to the NBA look, though series creator, Craig McCracken, resigned from Cartoon Network around the time it went from just cartoons to both cartoons and live-action.
The Pan-Euro Cartoon Network was the second last channel using these bumpers, they started June 20, 2008 and ended on April 24, 2009.
In Australia, the City era went a debut rebrand on October 1, 2005 until August 31, 2008 and in Asia Pacific from April 16, 2005 until December 5, 2008, which became rebranded to New Wave era.
Cartoon Network Latin America is the second channel using this look, launched there on January 1st, 2005 and used until August 6th 2010, at midnight.
The City look ended in Latin America on August 6, 2010 at 12:00 AM, rebranding with Toonix look.
It's considered by most one of the best look of all of Cartoon Network. It was accomplished by Cartoon Network's Former President, Jim Samples is no longer at Cartoon Network
Shows that were in the city (US)
Edit
Non-Cartoon Network
Edit
Characters by TV show
Edit