Carl Tennyson is Sandra Tennyson's husband and the father of Ben. He is the son of Max and Verdona.
Ben 10: Alien Force
Edit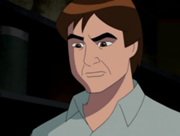 Carl first appeared in
Grounded
, where he and Sandra discover Ben's superhero activities. Apparently unable to handle the thought of their son constantly risking his life, and angered about Ben's constant lying about his activities, they ground him, forbid him from using the Omnitrix, and tell
Gwen's
parents
of her superheroism, resulting in her grounding as well and Kevin being forced to fight the
Highbreed
alone.
Additionally, Carl was furious when he found out his father had something to do with it. When this proves to be too much for Kevin to handle, Ben openly defies his parents and uses the Omnitrix to turn into Humungosaur and, (literally) break out of the house and help Kevin; through this, they realize how important the things Ben is doing really is.
They come to help Ben and
Kevin fight
, and admitted that they are proud of Ben, allowing him to resume his heroism. During this time, Carl admits that he had known all along about Max's time in the Plumbers and resented him for it, but now realizes that he was protecting them, just as Ben was.
Ben 10: Ultimate Alien
Edit
Carl reappeared in Hit 'Em Where They Live. He was ambushed by Charmcaster, Zombozo and Vulkanus. They flattened his car tire, making him unable to escape. They were about to strike when Ben, Gwen and Kevin came along and saved him. He was completely oblivious to what was happening.
Appearances
Edit
Alien Force
Edit
Ultimate Alien
Edit
References
Edit
Ben 10 Characters
Main Characters
Ben Tennyson | Gwen Tennyson | Kevin Levin | Max Tennyson | Rook Blonko
Supporting Characters
Julie Yamamoto | Plumbers (Manny Armstrong, Helen Wheels, Alan Albright, Cooper Daniels, Tack, Magister Pyke, Magister Korwak, Magister Hulka, Joel Tennyson, Gordon Tennyson, Betty Jean Tennyson, Wes Green, Blukic, Driba, Magister Patelliday, Sheriff Wat-Senn, Molly Gunther, Plumber Jerry, Magister Arnux) | Jimmy Jones | The Galvan (Azmuth, Retaliator, Galvan Teacher) | Professor Paradox | Ship | Eunice | Zed
Other Allies
Petrosapiens (Tetrax Shard, Sugilite) | Gluto | Galactic Enforcers (Ultimos, Synaptak, Tini) | The Highbreed (Reinrassic III) | Myaxx | Xylene | Colonel Rozum | SACT (Lieutenant Steel) | Ignatius | Technorg | Hector | Elsgood | Sheriff Mason | Kai Green | Ishiyama | Tennyson Family (Carl Tennyson, Sandra Tennyson, Frank Tennyson, Lili Tennyson, Verdona Tennyson, Camille Mann, Kenneth Tennyson) | Levin Family (Mrs. Levin, Harvey Hackett) | Rook Family (Rook Da, Rook Bralla, Rook Shar, Rook Shim, Rook Shi, Rook's Brother) | Ester | Gourmands (Private Brown Bag, Queen Voratia Rumbletum, Sergeant Cast Iron, Sergeant Cookmeister) | Lewodans (Tiffin, Sicily) | Rad Dudesman
Former Allies
Albedo | Elena Validus | Phil | Forever Knights (Squire, Connor, Sir Cyrus, Patrick, Sir Driscoll) | Vilgax | Michael Morningstar | Sunny | Antonio | Cash Murray | J.T. | Oliver Thompson | Zaw-Veenull | Probity
Deceased Supporting Characters and Allies
Devin Levin | Magister Labrid | Magister Prior Gilhil |Pierce | Sir George | Winston | Victor Validus | Kwarrel | The Sentinel |
Prisoners of Aggregor
Bivalvan | Galapagus | P'andor | Andreas | Ra'ad
Frienemies
Hope | Hope's Stone Creatures | Argit | Baz-El | Simian | Vreedle Brothers (Octagon Vreedle, Rhomboid Vreedle) | Blarney T. Hokestar | Raff | Serena | Bellicus | Mr. Baumann | Pakmar | Mazuma
Generator Rex Heroes
Rex Salazar | Bobo Haha | Agent Six | Rebecca Holiday | White Knight | Caesar Salazar
The Secret Saturdays Heroes
Zak Saturday | Doc Saturday | Drew Saturday | Fiskerton Saturday | Komodo | Zon
Future & Alternate Heroes
Ben 10,000 (Ultimate Alien) | Ben's Team (Alternate Timeline) (Ben 10,000 (Alternate Timeline), Gwendolyn Tennyson (Alternate Timeline), Ken 10, Devlin Levin, Max Tennyson (Alternate Timeline), Kenny's Stone Pet) | Ben's Team (Dimension 23) (Ben 23 | Tetrax Shard (Dimension 23) | Sevenseven (Dimension 23) | Azmuth (Dimension 23)) | Ben Tennyson (RAT Timeline) | Gwen Tennyson (RAT Timeline) | Max Tennyson (RAT Timeline) | Plumbers (RAT Timeline) (Principal White, Mrs. Dalton, Mr. Hawkins, Fire Chief Whittington, Constantine Jacobs, Mr. Enguells, Mr. Jenyx, Mrs. Carlay) | Ben Tennyson (Cosmic Destruction Timeline) | Ben Tennyson (Gwen 10 Timeline) | Gwen 10 | Max 10 | Ben Tennyson (PoE Timeline) | Gwen Tennyson (PoE Timeline) | Max Tennyson (PoE Timeline)
Ad blocker interference detected!
Wikia is a free-to-use site that makes money from advertising. We have a modified experience for viewers using ad blockers

Wikia is not accessible if you've made further modifications. Remove the custom ad blocker rule(s) and the page will load as expected.