Retconned
The characters and/or events in the storyline depicted in this article have been changed, altered, added to, or erased from the main continuity.
Gwendolyn Tennyson is a version of Gwen Tennyson from the Alternate Ben 10,000 Timeline.
Appearance
Edit
Gwendolyn has short orange hair that has bangs in the front. She wears a blue and black spandex suit and the Charms of Bezel on her right arm. She has a hood and only sometimes wears it. She has a belt with a cat on it, the same cat Gwen wore on her shirt when she was ten.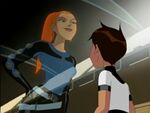 In Ken 10, Gwendolyn has much longer hair in a ponytail.
In Ben 10,000, 30 year old Gwendolyn came through a portal to the Main Timeline and grabbed Gwen to lead XLR8 into her timeline. When Ben and Gwen were there they believed the "crisis" Gwendolyn was talking about was Vilgax and Dr. Animo. At the end of the episode Gwen realized that Dr. Animo was never the crisis, Ben 10,000 just needed a major attitude adjustment.
In Ken 10, 42 year old Gwendolyn appeared as a hologram and gave Kenny a Stone Creature as a birthday present. Later in the episode, she and Ben 10,000 were discussing whether or not Ben 10,000 should let Ken fight.
Appearances
Edit
According to herself, Gwendolyn started going by Gwendolyn instead of Gwen since college.
Ben 10 Characters
Main Characters
Ben Tennyson | Gwen Tennyson | Kevin Levin | Max Tennyson | Rook Blonko
Supporting Characters
Julie Yamamoto | Plumbers (Manny Armstrong, Helen Wheels, Alan Albright, Cooper Daniels, Tack, Magister Pyke, Magister Korwak, Magister Hulka, Joel Tennyson, Gordon Tennyson, Betty Jean Tennyson, Wes Green, Blukic, Driba, Magister Patelliday, Sheriff Wat-Senn, Molly Gunther, Plumber Jerry, Magister Arnux) | Jimmy Jones | The Galvan (Azmuth, Retaliator, Galvan Teacher) | Professor Paradox | Ship | Eunice | Zed
Other Allies
Petrosapiens (Tetrax Shard, Sugilite) | Gluto | Galactic Enforcers (Ultimos, Synaptak, Tini) | The Highbreed (Reinrassic III) | Myaxx | Xylene | Colonel Rozum | SACT (Lieutenant Steel) | Ignatius | Technorg | Hector | Elsgood | Sheriff Mason | Kai Green | Ishiyama | Tennyson Family (Carl Tennyson, Sandra Tennyson, Frank Tennyson, Lili Tennyson, Verdona Tennyson, Camille Mann, Kenneth Tennyson) | Levin Family (Mrs. Levin, Harvey Hackett) | Rook Family (Rook Da, Rook Bralla, Rook Shar, Rook Shim, Rook Shi, Rook's Brother) | Ester | Gourmands (Private Brown Bag, Queen Voratia Rumbletum, Sergeant Cast Iron, Sergeant Cookmeister) | Lewodans (Tiffin, Sicily) | Rad Dudesman
Former Allies
Albedo | Elena Validus | Phil | Forever Knights (Squire, Connor, Sir Cyrus, Patrick, Sir Driscoll) | Vilgax | Michael Morningstar | Sunny | Antonio | Cash Murray | J.T. | Oliver Thompson | Zaw-Veenull | Probity
Deceased Supporting Characters and Allies
Devin Levin | Magister Labrid | Magister Prior Gilhil |Pierce | Sir George | Winston | Victor Validus | Kwarrel | The Sentinel |
Prisoners of Aggregor
Bivalvan | Galapagus | P'andor | Andreas | Ra'ad
Frienemies
Hope | Hope's Stone Creatures | Argit | Baz-El | Simian | Vreedle Brothers (Octagon Vreedle, Rhomboid Vreedle) | Blarney T. Hokestar | Raff | Serena | Bellicus | Mr. Baumann | Pakmar | Mazuma
Generator Rex Heroes
Rex Salazar | Bobo Haha | Agent Six | Rebecca Holiday | White Knight | Caesar Salazar
The Secret Saturdays Heroes
Zak Saturday | Doc Saturday | Drew Saturday | Fiskerton Saturday | Komodo | Zon
Future & Alternate Heroes
Ben 10,000 (Ultimate Alien) | Ben's Team (Alternate Timeline) (Ben 10,000 (Alternate Timeline), Gwendolyn Tennyson (Alternate Timeline), Ken 10, Devlin Levin, Max Tennyson (Alternate Timeline), Kenny's Stone Pet) | Ben's Team (Dimension 23) (Ben 23 | Tetrax Shard (Dimension 23) | Sevenseven (Dimension 23) | Azmuth (Dimension 23)) | Ben Tennyson (RAT Timeline) | Gwen Tennyson (RAT Timeline) | Max Tennyson (RAT Timeline) | Plumbers (RAT Timeline) (Principal White, Mrs. Dalton, Mr. Hawkins, Fire Chief Whittington, Constantine Jacobs, Mr. Enguells, Mr. Jenyx, Mrs. Carlay) | Ben Tennyson (Cosmic Destruction Timeline) | Ben Tennyson (Gwen 10 Timeline) | Gwen 10 | Max 10 | Ben Tennyson (PoE Timeline) | Gwen Tennyson (PoE Timeline) | Max Tennyson (PoE Timeline)
---
Ad blocker interference detected!
Wikia is a free-to-use site that makes money from advertising. We have a modified experience for viewers using ad blockers

Wikia is not accessible if you've made further modifications. Remove the custom ad blocker rule(s) and the page will load as expected.