Incursean

General Information

Home World
Unknown (destroyed)
Body
Humanoid Frog

Powers and abilities

Abilities
Long Tongue
Enhanced Jumping

Details

First Appearance
X = Ben + 2

The Incurseans are a race of toad-like aliens who can't get enough of war.
Background
Edit
The Incurseans are a technologically advanced frog-like species from a planet that was destroyed long ago.
Under the leadership of the tyrant leader, Lord Emperor Milleous, the Incurseans have stepped up their game to become even more hyper aggressive warrior-gangsters out for galactic conquest around the universe. Princess Attea worked her way back into her father's good graces. She was a general and was given command of the Incurseans' celebrated Calaveras Legion. Attea had a plan to take over using Earth and Ben Tennyson, which succeeded. She is now in charge of the Incurseans.
The Incurseans have been a violent, spacefaring race for millennia. Their original homeworld was divided into many factions in an eons-long civil war.
A millennia ago, a warrior attempted to reunite the planet with the power of Ascalon, which he stole from Azmuth. The result of misusing the sword's power, however, was the destruction of the Incursean homeworld.
Appearance
Edit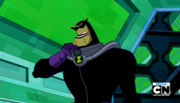 The Incurseans look like anthropomorphic toads.  They can be heard making frog sounds.
Male Incurseans have either slim bodies, warty toad like heads and yellow eyes or in larger forms with an even greater toad like appearance.
Female Incurseans, from the single seen so far look very little like the other gender of their species. Attea, the only female Incurseans seen so far, looked almost completely human in Alien Force except for the not wart ridden green skin, yellow sclera with red pupiled eyes and slightly larger than normal mouth.
Powers and Abilities
Edit
Incurseans have a frog-like tongue that is long and sticky. They also have enhanced jumping abilities, like frogs.
Weaknesses
Edit
Incurseans appear to be very sensitive to smells like burning rubber and compost, which causes them to faint (they are also very sensitive to the burning smell of Swampfire).
Appearances
Edit
Ben 10: Alien Force
Edit
Ben 10: Ultimate Alien
Edit
Ben 10: Omniverse
Edit
Notable Incurseans
Edit
Associates
Edit
References
Edit
Ben 10 Villains
Main Villains
Aggregor • Diagon • Incursean Empire (Attea, Dr. Psychobos, Frolic, Lieutenant Rana, Milleous, Sang-Froid, Major Glorff), • Forever Knights (Connor, Driscoll, Enoch, Joseph Chadwick, Patrick, Red Knight, Sir Cyrus, Sir Dagonet, Sir Morton, Sir Reginald, Squire, Urian) • The Faction (Khyber, Malware) • Vilgax • Zs'Skayr
Secondary Villains
Albedo • Aloysius Animo • DNAliens • Elena Validus • Eon • Flame Keepers' Circle (Conduit Edwards, Esoterica) • Hex • Lucubra • Michael Morningstar • Negative 10 • Psyphon • The Sotoraggian Mercenaries (Sixsix, Sevenseven, Eighteight) • Vulkanus • Will Harangue • Xenocyte • Zs'Skayrs's Servants (King Viktor, Mummy, Yenaldooshi)
Minor Villains
Adwaita • Aggregor's Soldiers • Animo's mutant animals (Heatbat, Mutant Ant, Mutant Chicken, Mutant Cockatiel, Mutant Frog, Mutant Giraffe, Mutant Hamster, Mutant Hornet, Mutant Lepidopterran, Mutant Mammoth, Mutant Mosquito, Mutant Seagull, Mutant Squid, Mutant Tyrannosaurus) • Billy Billions • Camille's Ex-Boyfriend • Captain Kork • Carl Nesmith • Circus Freak Trio (Acid Breath, Frightwig, Thumbskull) • Clancy • Coach Finn • Computron • Computron's Minions • Evil Way Big • Fistrick's Gang (Fistrick, Corvo, Hoodlum, Unnamed Thug) • Garbage Monster • Gorvan • Highbreed Tree Monster • Howell Wayneright • Jarrett • Jennifer Nocturne • Kraab • Kolar • Ma Vreedle • Mayor Coleman • Mechaneers • Mizaru • Morgg • Mr. Mann • Mrs. Mann • Mutant Seagull (Ultimate Alien) • Mycelium • Nanochips • Nyancy Chan • Palorfang • Pickaxe Aliens • Plant Alien • Plant Clones • Psyphon's Gang (Bubble Helmet, Fistina, Liam, Thunderpig, Tummyhead) • R.E.D. • Ragnarok • Red Robot • Road Crew (Baron Highway, Road Rage, Turbine) • Rojo's Gang (Rojo) • Sublimino • S.A.M. • Seebik • Slix Vigma • Squires • Ssserpent • Sunder • Sunny • Synthroid • Techadon Robots • The Decoy Queen • The Great One • Trumbipulor • Violet Offenders • Vilgax's Drones • Zombozo
Frenemies
Argit • Baz-El • Bellicus • Blarney T. Hokestar • Hope • Hope's Stone Creatures • Mazuma • Mr. Baumann • Null Guardians • Pakmar • Raff • Serena • Simian • Vreedle Brothers (Octagon Vreedle, Rhomboid Vreedle)
Former Villains
Bivalvan • Cash • Dragon • Decka • Devlin Levin • Eon's Servants • Ester • Helen Wheels • Highbreed (Reinrassic III, Highbreed Commander, Highbreed Councilors) • J.T. • Kenko • Kevin Levin • Khyber's Dog • Manny Armstrong • P'andor • Prisoner 775 • Ra'ad • Retaliator • Sentient Ultimate Big Chill • Sentient Ultimate Cannonbolt • Sentient Ultimate Echo Echo • Sentient Ultimate Humungousaur • Sentient Ultimate Spidermonkey • Sentient Ultimate Swampfire • Sir George • Technorg • The Great One's Worshipers (Leader Alien, Enforcer Alien, Interpreter Alien) • Thomas Jingles • Vance Vetteroy • Victor Validus • Winston • Yeti
Generator Rex Villains
Alpha • Biowulf • Black Knight • Skalamander • I-Bol
The Secret Saturdays Villains
V.V. Argost • Munya
Future & Alternate Villains
Albedo (Vilgax Attacks Timeline) • Albedo (Cosmic Destruction Timeline) • Crooks (Dimension 23) • Dr. Animo (PoE Timeline • Dr. Animo (Ben 10,000 Timeline) • Enoch (Cosmic Destruction Timeline) • Enoch (PoE Timeline) • Evil Way Big (Albedo) • Exo-Skull • Gorvan (Alternate Timeline) • Kevin 11,000 • Kevin Levin (PoE Timeline) • Khyber (Omniverse Game Timeline) • Malware (Omniverse Game Timeline) • Mot Snikrep • Psyphon (Cosmic Destruction Timeline) • Psyphon (Omniverse Game Timeline) • Sploot • Terracotta Army • Terracotta Dragon • Terracotta General • Vilgax (Ben 10,000 Timeline) • Vilgax (Gwen 10 Timeline) • Vilgax (Vilgax Attacks Timeline) • Vilgax (PTE Timeline) • Vilgax (PoE Timeline)
Ad blocker interference detected!
Wikia is a free-to-use site that makes money from advertising. We have a modified experience for viewers using ad blockers

Wikia is not accessible if you've made further modifications. Remove the custom ad blocker rule(s) and the page will load as expected.