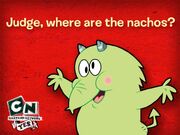 The
Yes!
look is
Cartoon Network
's fourth look. It began on April 10, 2006 when Animal Logic, creators of the
CN City
look, contract was expired, and made another look. The background was red and the spokerspersons were Fred FredBurger,
Billy
(
The Grim Adventures of Billy and Mandy
)
Cheese
, and
Bloo
(
Foster's Home for Imaginary Friends
). However it uses the city reprise, only with flat, dark, colors, the city bumpers were still used, but the YES! bumpers were mostly used. The Now and Then bumpers were changed too, the white disc that showed the character's head were replaced with large red discs, the city sets used in the now and then bumpers had random color changes. When the era started, most of the original
Cartoon Cartoons
were taken off the air (
Dexter's Laboratory
,
Powerpuff Girls
, etc) except for
The Grim Adventures of Billy & Mandy
and
Ed, Edd n Eddy
(however, Courage returned in October 2006). Dexter was sent to
Boomerang
when the era started and the Cartoon Cartoons were sent to the 30-minute block called The Cartoon Cartoon Show. The Yes! look ended on August 31, 2007 and became rebranded to
Fall
look.
Yes! is the last look to be introduced under Jim Samples' lead.